SUPPORT OUR 2011 SEASON!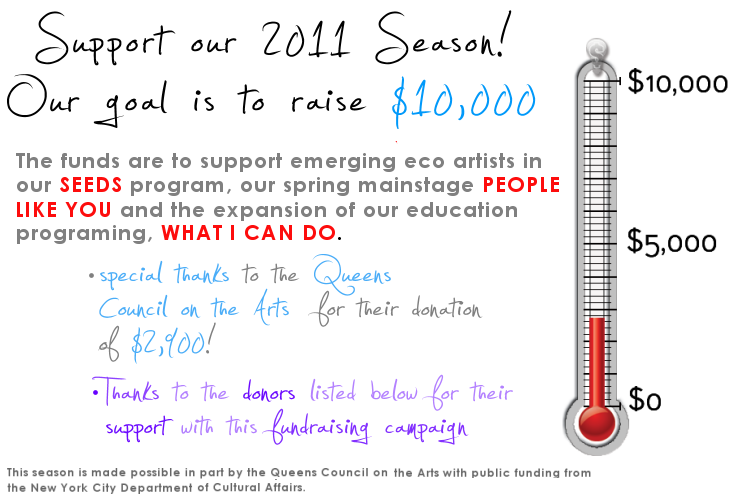 Beginning February 13th through April 1st our goal is to raise $10,000. This page will be updated as patrons donate.
At 9Thirty Theatre Company, we are committed to educating Americans about how they can combat climate change by raising awareness and geting involved. Our ecological programming, sustainable and eco-friendly practicies, and education for youth and disabled children are just a few way we get invovled with the New Yorkers to create a brighter future!
Get involved
and make a tax-deductable donation
today
! To support us with a check
click here
and follow the instructions. To make a donation by credit or debit card please click below.


Our Corporate Sponsors
Our Individual Donors
Thank-you so much for your generous support of our work! If it weren't for you we couldn't be here today!
Mother & Father Nature ($10,000 and up)
Anonymous

Champions ($5,000-$9,999)
Anonymous

Energenuis ($2,000-$4,999)
Anonymous

Greenhouse Governors ($1,000-$1,999)
Deb & John Burroughs

Sustainable Sergeants ($500-$999)
Robert and Ashley Gates Jansen
Graham Orr

Carbon Food-Soldiers ($200-$499)
Martin Robertson
Shelia Perkins
Anna Camp

Forest Friends ($100-$199)
Elizabeth Peugeot
Jason & Heidi Burroughs
Thomas Griffith
Stephan Stubbins
Amy & David Crowley
Barbara Listenik
Fatima Ghandforoush


The Environmen & Environwomen ($50-$99)
Benjamin Furey
Joshua Morgan
Stephan Bobalik
Jason Derevitsky
Devan Hibbard
Rob Iwanicki
Barabara Green
Jason Seto
Alissa Young
Barbara Kingsley

Organic Officers ($25-$49)
Robert Beseda
Matt & Lori Burroughs
Keith & Cindy Schrader
Shane Andries
Catlyn Burke
Paul Goodman
Nicole Hodges

The Buds ($10-$24)
Virgina Hammer
Sean Pappas
Eugene Myers
Sang In Woo
Randy Rabney
Stacy Salvette
Anonymous
Mary Colston
Gilana Lobel
Sarah Viccellio